bedrooms
DESIGNED FOR CAMARADERIE AND COMFORT
Aikwood Tower has five en-suite bedrooms and can sleep up to ten guests. All the rooms are fitted out with Duxiana beds, the 'most technologically advanced sleep system in the world' and are made for lazy holiday lie-ins! All are accessorised with tweed throws, cushions and curtains from the local mills.
Four of the bedrooms can be made up as doubles or twins. Each room has a plentiful supply of towels, bathrobes and Aaron Aromatics toiletries. Travel cots and inflatable toddler beds can also be provided and we have two luxury put up single beds available on request for larger parties.
Aikwood Tower has remained under the ownership of one branch or another of the Scott clan since it was established 500 years ago. After its most recent refurbishment, we named the bedrooms after Scotts with a direct link to the tower: Buccleuch, Sir Walter Scott, Steel, Wizard and Harden.
BUCCLEUCH
After the Second World War, Aikwood Tower passed into the ownership of the Dukes of Buccleuch, whose family home is the nearby Bowhill House.
When the ninth Duke of Buccleuch – John Montague Douglas Scott – succeeded to the title in 1973, he became open to the idea of the decayed Scottish tower houses being restored to their former glory.
In the 1990s, two Ettrick Valley tower shells on the Buccleuch Estate were restored as homes – Kirkhope Tower at Ettrickbridge, and Aikwood Tower.
the master bedroom & bridal suite

super-King size bed

valley views from all corners
sir walter scott
Sir Walter Scott (1771 – 1832) invented the historical novel. He was the first English-language author to enjoy a truly international career during his lifetime. Famous examples of his work include Rob Roy, Ivanhoe, Waverley and The Lady of the Lake.
As a child he spent much of his time in the Scottish Borders at his grandfather's farm and drew inspiration from the border ballads and folklore. His iconic home, Abbotsford, is just ten miles away.
Aikwood Tower itself held a fascination for him, as he placed the origins of more than one of his works here. In old age and failing health, his last outing included Aikwood Tower and nearby Ettrickbridge.
comfortable, cosy & snug room

double bed

En suite bathroom with slipper bath
steel
In his mid-twenties, David Martin Scott Steel was elected MP for Roxburgh, Selkirk and Peebles at a 1965 by-election, becoming the youngest MP in parliament at the time – the 'Baby of the House'. He continued to represent the local seat for over 30 years, 12 of them as leader of the Liberal Party.
But he had another ambition in addition to political ones - to restore a derelict Scottish tower - and this was made possible in the late 1980s.
With his wife, Judy, David spent twenty happy and productive years at Aikwood Tower. In 1997, when he was appointed to the House of Lords, he took the title Baron Steel of Aikwood.
CASCADING VIEW DOWN the DRIVE to the Valley

King size bed

En suite modern bathroom
Wizard
Michael Scott is credited as Scotland's first scientist, alchemist, sorcerer and astronomer. He is also one of Scotland's forgotten geniuses. And the 'Wizard of Aikwood'.
Many legends about Scott link him with ownership of Aikwood Tower, including one regaling his transformation into a hare by the neighbouring Witch of Fauldshope, and his subsequent revenge on her.
Whatever legend may say, there is no dispute that a certain Maister Michael Scott became the first owner of Aikwood by virtue of a feu disposition in name of James V in 1517, and that he or his family built Aikwood Tower.
nestled in the tower's eaves & reached by 61 steps

King size bed

En suite shower room
HARDEN
In the seventeenth century, Aikwood Tower passed to William Scott of Harden, beginning his family's three-century ownership of it. He was the eldest son of the great Border reiver, Wat of Harden.
Wishing to emulate his father, William led a raid on Elibank Castle on the Tweed, home of Sir Gideon Murray. He was captured and threatened with hanging until Lady Murray intervened: could this young forest laird be persuaded to marry their plain-faced daughter Meg? William was given the choice: "There is your coffin, and there is your bride." After some prevarication, he chose marriage, and it turned out to be one of great happiness.
perfect for families

King size bed

En suite modern bathroom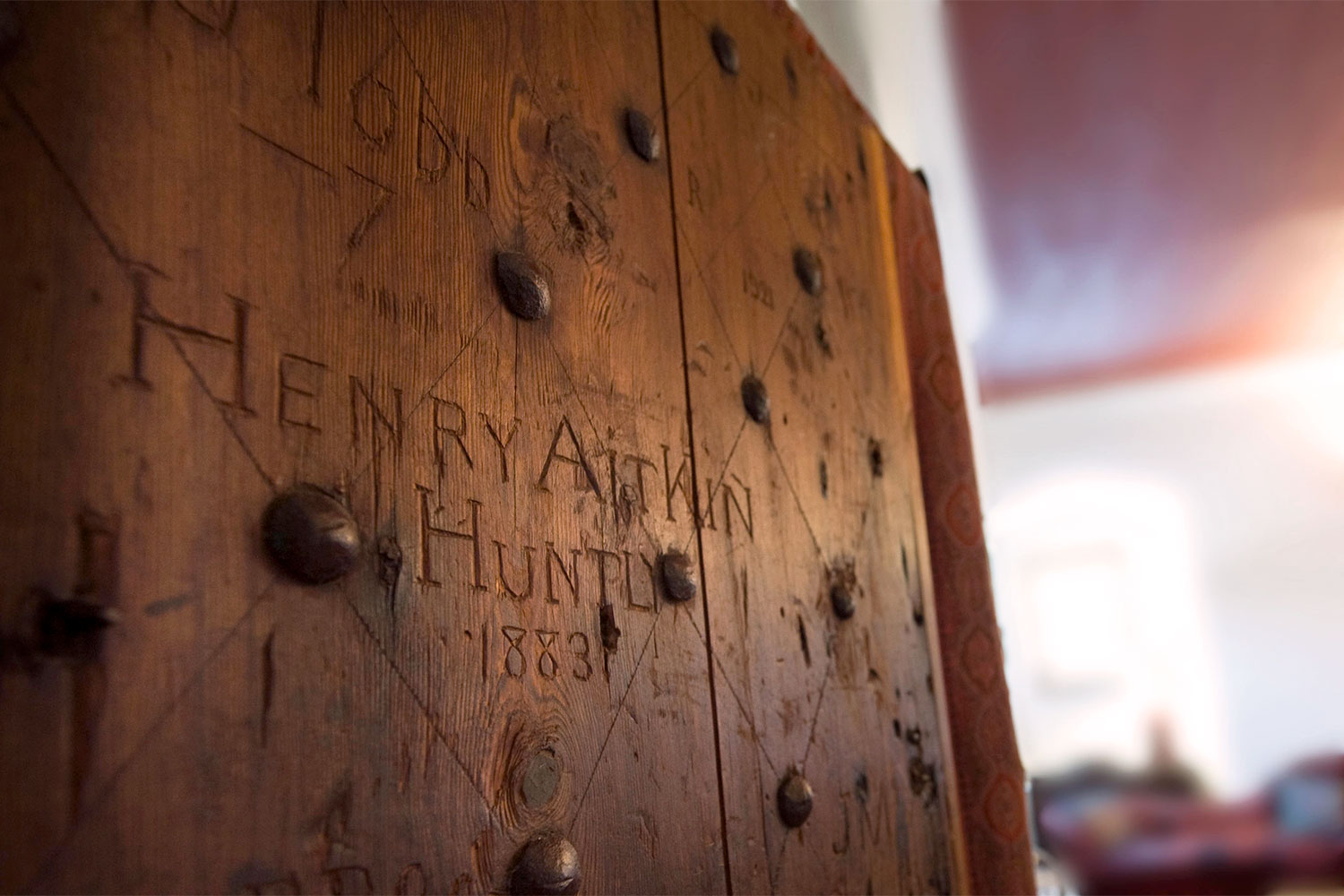 "If a building can absorb the atmosphere of its occupants then Aikwood must be the happiest place on earth. We thought it would be a wonderful venue for a 60th birthday celebration with dear friends, but this has surpassed our expectations. Thank you so much to everyone who makes this possible."
- the shill family, isle of skye
A PLACE FOR Romance
Whatever the reason for your stay, Aikwood Tower will always have a very special place in your heart. But there's no better place to celebrate an intimate wedding or special anniversary. The perfect marriage of ancient and modern, Aikwood Tower offers a unique Scottish castle wedding experience for up to 70 guests.