communal rooms
DESIGNED FOR CAMARADERIE AND COMFORT
Whatever the reason for your stay at Aikwood Tower, you will find that it's perfect for relaxing, socialising and entertaining. Huge roaring fires, a convivial kitchen and a well-equipped games room all lend themselves to you spending quality time with your family and friends. Start your day together over a morning coffee in the AGA-heated kitchen and finish with a wee dram in the early hours, in front of the Great Hall fire.
great hall
Every castle has its own Great Hall, and while Aikwood Tower's is modest in size, it is as warm and beautiful as any in the land.
Dominated by its rare jogged lintel fireplace with unusual stonemason's markings, the Great Hall is the central room for converging with other guests and whittling away a fine evening of laughter and conversation.
With exquisite furnishings, plush textures, animal skins on the stone floor and a large basket of logs to keep the fire going, guests are thrust into a magical space to enjoy lively nights and create new memories.
The art on the walls is from artists inspired by Aikwood Tower and constantly changes as it is available to guests for purchase.
LAIRD'S STUDY
The man who breathed new life into Aikwood Tower in 1988 has had a long and distinguished career in British politics. Until recently, this room was the sanctuary of Lord Steel of Aikwood.
While fellow guests may be busying themselves in the Great Hall, kitchen, garden or elsewhere, the Laird's Study provides the perfect space for enjoying some quiet time and a good book.
The library of political biographies has been personally chosen by Lord Steel as examples of inspiring thinking and focus upon leaders of great will and determination.
kitchen
Aikwood Tower's fully equipped kitchen and dining room is a fabulous place to prepare and enjoy the finest ingredients from the local area.
The kitchen, complete with AGA, is in the vaulted ground floor of the tower. When guests are seated at the burr-oak dining table, conversation begins swirling around and contentment soon breeds..
The nearest town for shopping, Selkirk, has a great array of small independent grocery shops and local produce (butcher, baker, deli, pharmacy etc.) plus Tesco, Asda and Sainsburys will all deliver.
If you'd like to treat yourselves during your stay then we can arrange for a private chef to come and serve you an extra special meal or stock the fridge with homemade meals.
gallery
The Gallery – situated above the Laich Hall – is housed in the old byre extension to the main tower building. Thought to be almost as old as the tower itself, it is where the trappings of modern living can be found, ensuring everyone's entertained, no matter the weather.
With digital TV, wi-fi and comfortable furniture to laze around on, kicking back to watch a late night film after a day in the great outdoors is a great way to unwind. There is also a desk, with laptop, for anyone needing to succumb to the necessities of modern day life.
The Gallery also houses a small bar for the mixologists among guests to shake up a fine martini pre-dinner or pour a warming dram.
Laich Hall
The Laich Hall – the ancient Scots word for lower hall – provides fun and games aplenty for houseguests and an inspiring function space for other events.
From giant jenga to table tennis and monopoly to twister there is a mix of delightful past-times to keep even the most competitive of guests busy.
Gardens
Aikwood Tower's south-west facing walled garden and orchard are a beautiful and pleasurable sanctuary all year round. The main lawn area is bordered on two sides by herbaceous beds whose contents would have been found in the fine gardens of the eighteenth century. The third side of the lawn has a rose-hedged path filled with roses whose variety and names link to the age, history and legends of the Tower, including the 'Duchess of Buccleuch' and the 'Alchemist' rose. From here, steps lead down to a flagged terrace that is a warm, sheltered sun-trap throughout the day and evening.
Beyond the lawn is a small orchard where old varieties of apple tree grow and where our wooden wendy house for smaller guests resides! Running down to the garden gate is the laburnum arch which is at its full glory in late May and June.
The garden is totally enclosed making it safe for children and dogs to run around in while you relax, play a spot of croquet or rustle up the BBQ! It is also a stunning setting for weddings and events.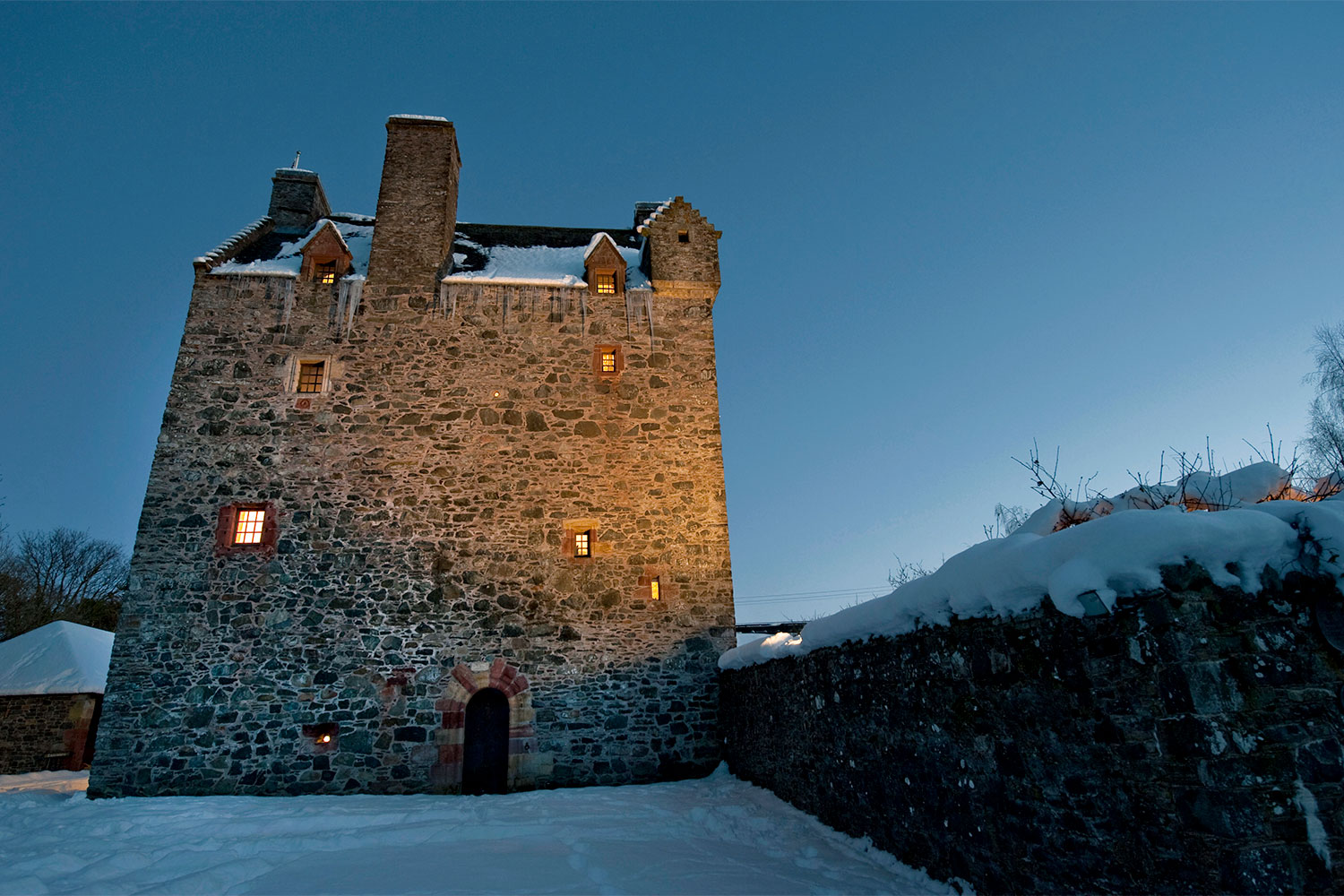 "We had an amazing time in a truly wonderful place. Everything has been thought of & to a really high standard. The fires were great & kept us warm & cosy. Lovely walks around the area & great country pubs. The whole experience was fantastic!"
A PLACE Full of history
The Scottish Borders has some of the richest and most dramatic history in the whole of Scotland. Discover turbulent tales of the Border Reviers, journey through the ancient hunting grounds and houses of Scottish royalty, immerse yourself in the literature of Walter Scott and James Hogg and trace your own family connections to the area. Or just soak up the fantastic history of Aikwood Tower – the 500-year-old walls have many stories to tell!