events
DESIGNED FOR CAMARADERIE AND COMFORT
Aikwood Tower is different to most castles and country houses in Scotland - its charm lies in its intimacy. Entering via the walled garden and west door, Aikwood Tower's endearing quirks of architecture and craftsmanship are immediately apparent as the Kerry-handed (left turning) spiral staircase lies before you.
Anniversaries
Every castle has its own Great Hall, and while Aikwood Tower's is modest in size, it is as warm and beautiful as any in the land.
Dominated by its rare jogged lintel fireplace with unusual stonemason's markings, the Great Hall is the central room for converging with other guests and whittling away a fine evening of laughter and conversation.
With exquisite furnishings, plush textures, animal skins on the stone floor and a large basket of logs to keep the fire going, guests are thrust into a magical space to enjoy lively nights and create new memories.
The art on the walls is from artists inspired by Aikwood and constantly changes as it is available to guests for purchase.
Birthdays
The man who breathed new life into Aikwood Tower in 1988 has had a long and distinguished career in British politics. Until recently, this room was the sanctuary of Lord Steel of Aikwood of Ettrick Forest.
While fellow guests may be busying themselves in the Great Hall, kitchen, garden or elsewhere, the Laird's Study provides the perfect space for enjoying a good book.
The library of political biographies has been personally chosen by Lord Steel as examples of inspiring thinking and focus upon leaders of great will and determination.
Get Togethers
Whether it's your day's catch or fine beef from the local award-winning butcher, Aikwood Tower's fully equipped kitchen and dining room is a fabulous place to prepare and enjoy the the finest ingredients from the Larder of Britain.
The kitchen, complete with AGA for self-catering guests to prepare their own meals, is in the vaulted ground floor of the tower. When guests are seated at the burr-oak dining table, conversation begins swirling around and contentment soon breeds.
An array of cookbooks is available for guests to create fantastic meals.
CORPORATE EVENTS
As any HR consultant will tell you, when taking time away from the office for team bonding, strategic planning or board meetings, it is important to locate yourself in an inspiring venue to focus the mind and promote creative thinking.
spectacle, peace and facilities
Aikwood Tower provides the spectacle, peace and facilities to run a tight and rewarding business gathering. With ample breakout space for brainstorming and a number of motivational activities available, Aikwood Tower offers all that would be expected from a city centre business hotel, and so much more.
Should you be looking for somewhere to entertain clients during the day or night, we have a wide selection of innovative events and performances that will be sure to make their time in your company's care an extraordinary and memorable occasion.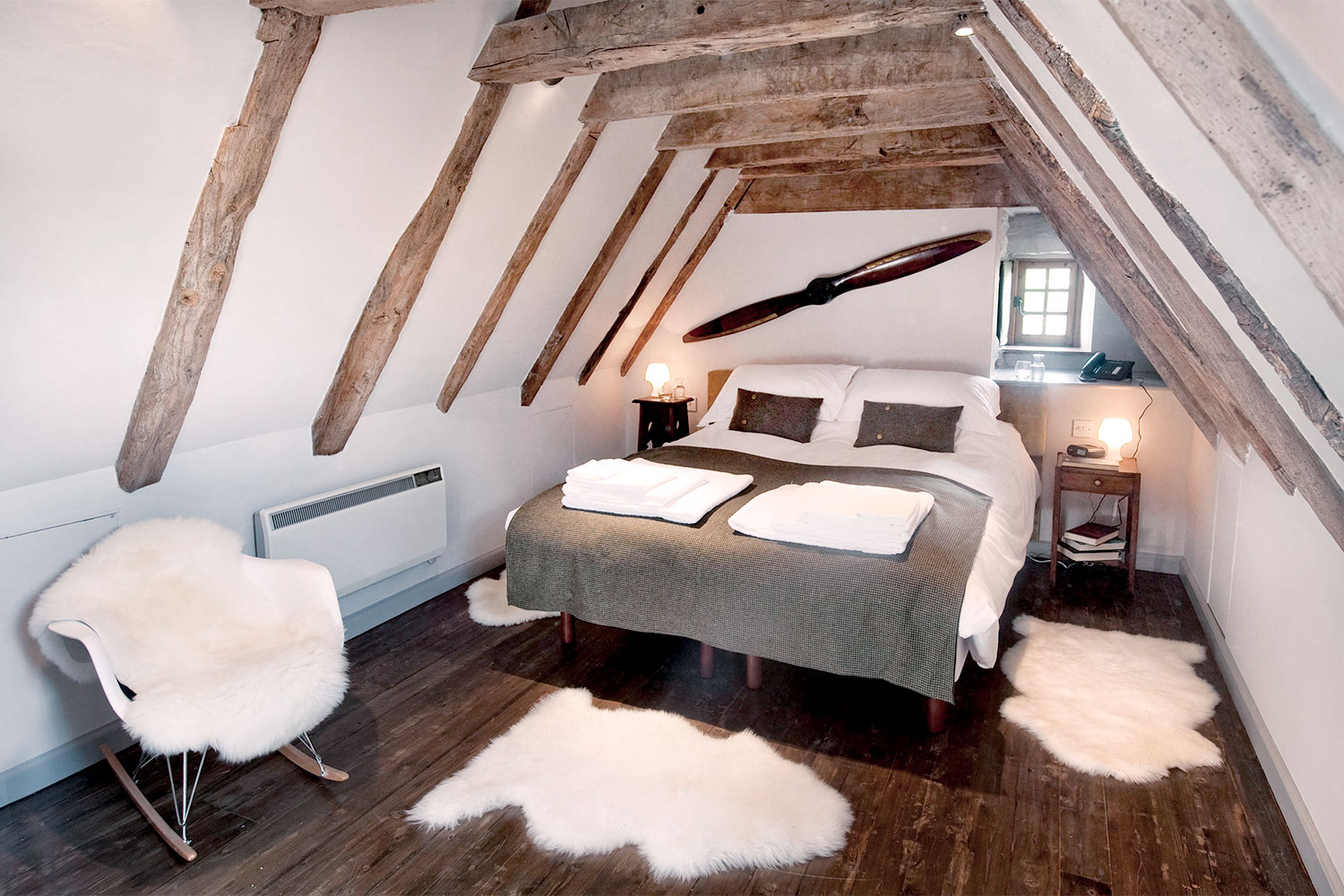 "It's safe to say Aikwood Tower is no ordinary holiday rental...all rooms are individual and charming...incredibly comfortable Swedish DUX beds..."